Dear valued customers and fellow cat lovers,
As the founder of Basmi, I would like to personally address some recent developments in the FIP treatment market. A new brand has entered the Malaysian market and instead focuses on helping cat owners, they start their journey by criticizing Basmi, making various accusations as part of their marketing strategy.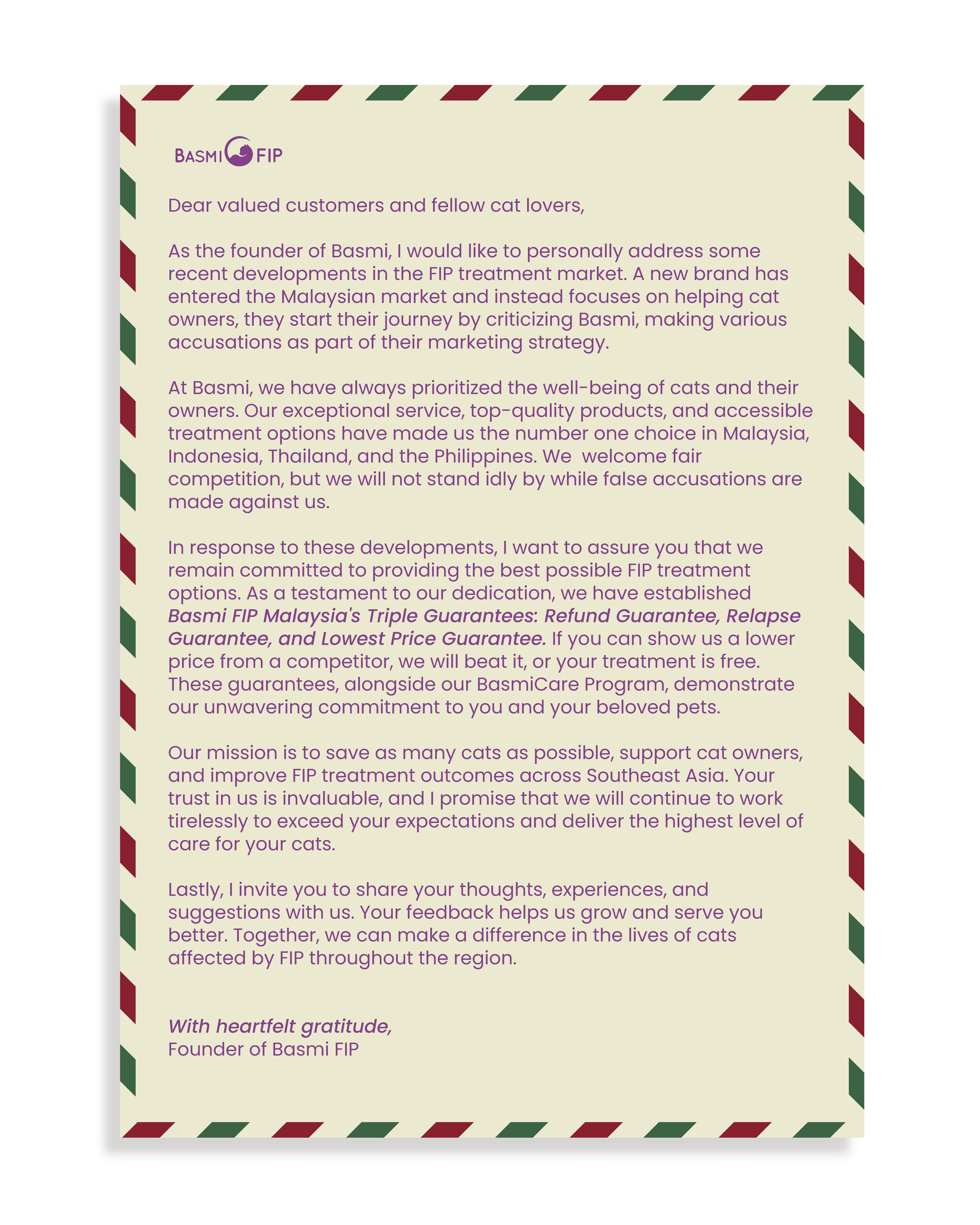 At Basmi, we have always prioritized the well-being of cats and their owners. Our exceptional service, top-quality products, and accessible treatment options have made us the number one choice in Malaysia, Indonesia, Thailand, and the Philippines. We welcome fair competition, but we will not stand idly by while false accusations are made against us.
In response to these developments, I want to assure you that we remain committed to providing the best possible FIP treatment options. As a testament to our dedication, we have established Basmi FIP Malaysia's Triple Guarantees: Refund Guarantee, Relapse Guarantee, and Lowest Price Guarantee. If you can show us a lower price from a competitor in Malaysia, we will beat it, or your treatment is free. These guarantees, alongside our BasmiCare Program, demonstrate our unwavering commitment to you and your beloved pets.
Our mission is to save as many cats as possible, support cat owners, and improve FIP treatment outcomes across Southeast Asia. Your trust in us is invaluable, and I promise that we will continue to work tirelessly to exceed your expectations and deliver the highest level of care for your cats.
Lastly, I invite you to share your thoughts, experiences, and suggestions with us. Your feedback helps us grow and serve you better. Together, we can make a difference in the lives of cats affected by FIP throughout the region.
With heartfelt gratitude,
Founder of Basmi FIP