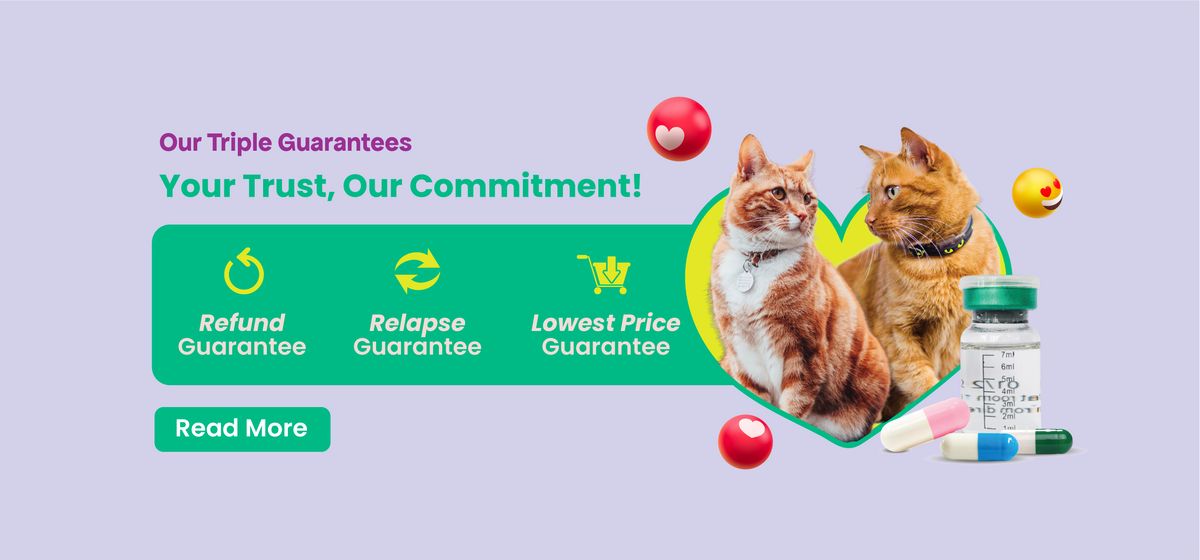 As a loving cat owner, your feline friend's health and happiness is a top priority. When it comes to FIP treatment, choosing the right brand is of utmost importance, considering that FIP is a deadly virus with a very fast replication process. This is the reason why Basmi FIP Malaysia should be your first choice for FIP treatment with GS-441524, a clinically proven method.
At Basmi FIP Malaysia, we understand this, which is why we offer what we call our Triple Guarantees. This commitment defines our relationship with you and your feline friend. Let's delve into what makes these guarantees so special.
Refund Guarantee
At Basmi FIP Malaysia, we believe in our products and services, and we want you to share that confidence. We offer refunds on all unopened bottles in the event that your cat could not be saved from FIP by our GS-441524 treatment. We do this because we are confident in the quality and effectiveness of our treatment.
This guarantee is valid for bottles / capsules purchased within 30 days of the warranty claim. We charge a RM50 fee to cover restocking, shipping material, labour, and transaction fees. Unopened bottles should be stored at a temperature between 3-8° Celsius or at room temperature for capsules and the 30mg, and to avoid direct sunlight.
Lowest Price Guarantee
We strive to make FIP treatment accessible to everyone without compromising quality. At Basmi, we have always prioritized the well-being of cats and their owners. Our exceptional service, top-quality products, and accessible treatment options have made us the number one choice in Malaysia, Indonesia, Thailand, and the Philippines.
As a testament to our dedication, we have established Basmi FIP Malaysia's Lowest Price Guarantee. Our mission is to save as many cats as possible, support cat owners, and improve FIP treatment outcomes across Southeast Asia. Your trust in us is invaluable, and we promise that we will continue to work tirelessly to exceed your expectations and deliver the highest level of care for your cats. Our lowest price guarantee means quality care at the best price.
Relapse Guarantee
We stand behind our FIP treatment. A relapse occurs in approximately 3% of cats that have undergone Basmi FIP™ treatment program. For cat owners who may be concerned about future relapse, we have formulated a clear Relapse Policy to inform you what to do step by step. For the relapse policy you can read the details here.
Your Trust, Our Commitment
Trust is the foundation of all relationships, and our connection with you and your cat is no exception. With Our Triple Guarantees, we aim to build a robust bond of trust with our customers.
You're not just entrusting us with your money but with the health and well-being of a cherished family member. That's a responsibility we take very seriously.
Conclusion
In a world filled with choices, Basmi FIP Malaysia wants to be the trusted option for your cat's health. Through our Triple Guarantees, we strive to show that we care about not only your cat but also your experience as a cat owner.
Your trust is the heart of everything we do at Basmi FIP Malaysia. We pledge to continue working tirelessly to provide the best services, with unwavering honesty, integrity, and compassion.
Join us in our mission to offer the best for your cat, and let our Triple Guarantees be your assurance that we are the right partner in your cat's journey.
If your cat is showing symptoms of FIP, take them to your nearest veterinarian for proper diagnosis and treatment. If you have any questions or concerns about FIP and its treatment, don't hesitate to contact us on WhatsApp or visit our Instagram for more information.
Read about Comprehensive Guide to Symptoms, Diagnosis & Treatment for FIP Cat here